Mindfulness has been around for thousands of years, originating in southeast Asia. It was originally founded in Buddhism and Hinduism and has since been westernized into what we know now. The benefits of mindfulness have been shown to be so great that many modern therapies have incorporated it into their practices. The most well-known use of mindfulness in therapy is with Dialectical Behavioral Therapy, better known as DBT. 
In DBT, mindfulness is divided into two branches of skills: the "what" skills and the "how" skills.  
The "What" Mindfulness Skills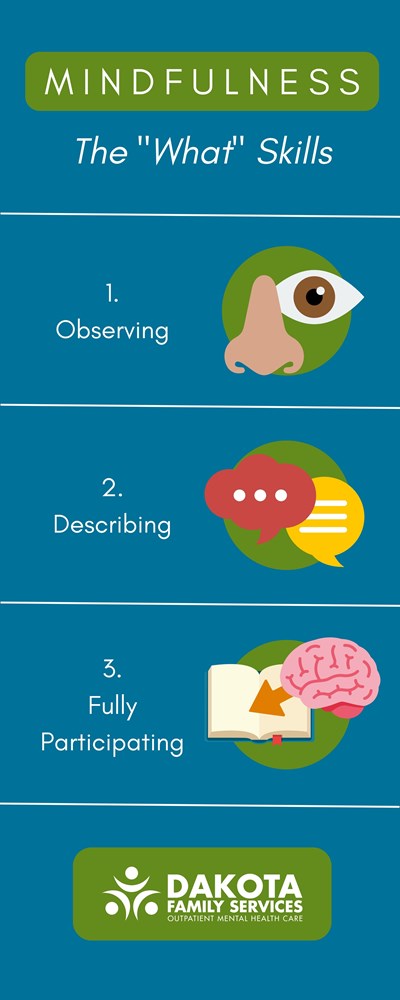 The "what" skills are what you do to practice mindfulness. These include observing, describing, and fully participating. When you practice mindfulness, you can try using one or many of the "what" skills. 
Observing: Use one or more of your 5 senses (sight, smell, taste, touch, and hearing) to observe something in your environment. For example:

The feel of the pen you are using to write with

The sounds of birds outside

The feeling of your own breath as you inhale and exhale

The taste of the food you are eating

The smell of a candle you are burning

Describing: Describe your observations. For example:

The pen is smooth, has writing on the side of it, includes a cap, and writes with black ink.

As I breathe, I can feel the air moving into my chest. The air moving in feels cooler than the breath that exhales.

The birds are chirping outside. There are long chirps followed by some short ones. They seem to get louder and then softer as birds fly past me.

Fully Participating: Become fully engaged in the activity you are doing. If you are fully participating, you might feel like the entire world disappears for a time. For example:

Reading a book and losing track of time

Fishing and realizing that a few hours have passed

Focusing on a crochet project you are working on 
The "How" Mindfulness Skills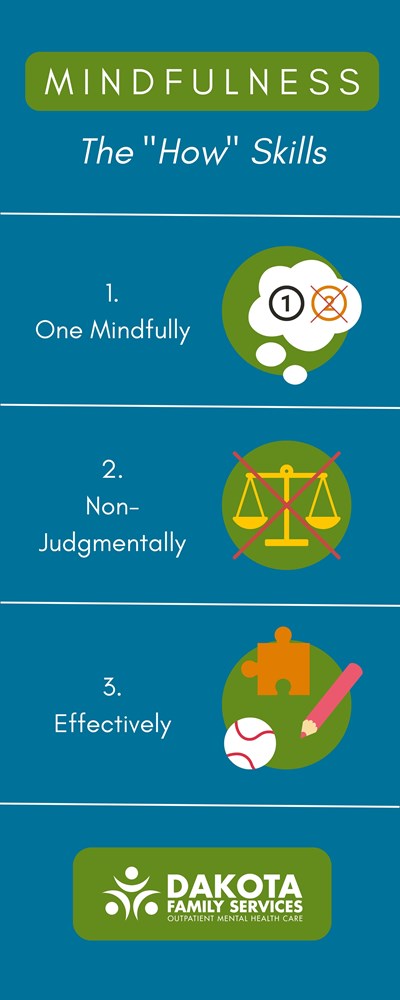 The second branch of mindfulness in DBT includes the "how" skills. The "how" skills include "one mindfully", "non-judgmentally", and "effectively." These skills should all be used any time you practice mindfulness. 
One Mindfully: Focus on one thing at a time. Whenever you are doing one of the "what" skills, focus on the thing you are being mindful of and try to not be distracted by the outside world. "One Mindfully" is difficult, and you will get distracted from time to time. Without judgement, bring yourself back to what you were focusing on and continue the activity.

 

Non-Judgmentally: Practice being non-judgmental about whatever you are focused on. This is also very difficult. If you don't believe me, pick a political figure you dislike or a musician you love/hate and try to describe them without making a judgmental remark. A good way to prevent yourself from being judgmental is to only focus on the facts. For example, the band has 5 people in it, their music is classified as country, they have one singer, one bass guitarist, one drummer, etc. When you start attributing judgments such as "they have five very bad musicians in the band," You are no longer practicing mindfulness without judgment.

 

Effectively: If you struggle with mindfulness, it's probably because you haven't found what works for you. As I work with patients, I find that many people already practice mindfulness and do not realize it, whether it be through golfing, hunting, biking, crocheting, running, doing puzzles, making art, reading, etc. What works for one person isn't going to work for all. Find what is effective for you and do that.

 
When it comes down to it, mindfulness is all about being in the moment. If you are anxious, depressed, or just struggling to deal with life's daily stressors, it can be very difficult to be present in the moment. Practicing mindfulness and learning how to focus on the moment in front of you can greatly improve your symptoms and decrease your stress.  
If you would like to give mindfulness a try, check out these resources: 
Finally, if you are struggling to focus, give yourself a little grace. Mindfulness takes practice. When you start, you may only be able to focus for a few seconds at a time. With practice, you'll get better and better.