Parents often ask how playing with toys and games, coloring, painting, drawing, listening to music, dancing, or making art, crafts, and jewelry can be therapeutic. They say, "I'm not paying for my child to play games or color pictures."
I understand. It can be difficult to wrap your thoughts around playing and having fun as therapy. When I was pursuing my degree in social work, no one told me play was an actual therapeutic practice, so when I heard about it, I was skeptical too. I've since learned how it can be a very effective therapy tool, especially when working with children.
The history of play therapy
Many people believe play therapy is a new form of therapy with no evidence of its effectiveness. In truth, it's been around since 1921 when it was introduced by Hermine Hug-Hellmuth, an Austrian widely regarded as the world's first psychoanalyst to treat children.
Hug-Hellmuth provided children with the necessary materials to express themselves during her sessions and advocated for the use of play to analyze children. When Hug-Hellmuth introduced play therapy, it was primarily geared toward children ages 5-12. As the practice has grown and evolved, play therapy has been proven to be a beneficial treatment method for people of all ages. While I often use play therapy techniques with teenagers and adults, in this article I will focus on the use of play therapy with children.
What is play therapy?
Play is an important part of childhood development. Child development can be disrupted by stress, trauma, or other factors. When this happens, children may struggle with communication skills, social skills, self-esteem, anxiety, or depression. Play is how children learn, how they express their thoughts and emotions, and according to child psychologists Joanne Pedro-Carroll and Linda Reddy, how they learn more adaptive behaviors when they have emotional, social, physical, or cognitive deficits.
Garry L. Landreth, author of "Play Therapy: The Art of Relationship," said,
"In play therapy, toys are like the child's words and play is in the child's language."
A Registered Play Therapist (RPT) is a therapist most often trained in Clinical Social Work, Counseling, or Marriage and Family Therapy who has completed additional specialized training in play therapy. The play therapist provides opportunities in a safe and comfortable space, for children to explore experiences, now and in the past, that might be influencing the way they live in the world and interact with other people. The play therapist's role is to interpret what the child is communicating through their play, respond appropriately, guide the child in processing a distressing situation or problem, and help the child move on at the appropriate time.
Can my child benefit from play therapy?
The short answer is yes! Through play therapy, children can explore their feelings, express themselves, and work through issues. It's an opportunity for them to learn new skills, develop relationships with others, and build confidence.
Play therapy has been shown to help children with many different issues, including:
Behavioral problems
Anxiety
Depression
Difficulties at school or home
Trauma
Attachment disorders
To determine if your child would benefit from play therapy, ask yourself these questions:
Does my child have trouble expressing himself verbally?
Does he find it difficult to make or keep friends?
Does he avoid interacting with other kids?
Is my child anxious about school or home life?
Does she struggle with her grades because of this anxiety?
Does my child struggle academically because of her anxiety or depression?
If your child is struggling with emotional or behavioral issues, play therapy can be an effective way for them to work through these issues at their own pace. And because it's not a one-size-fits-all approach, it doesn't take long for kids who are reluctant to talk about their emotions—or even just being around other people—to open up during sessions.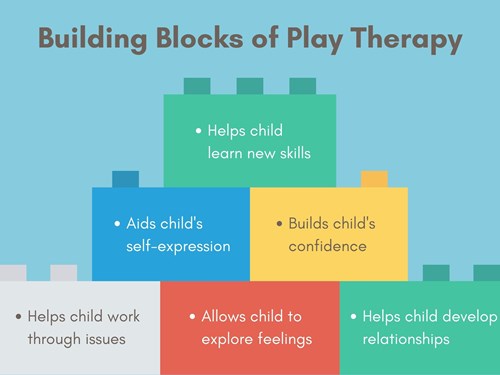 How to choose a play therapist
First, I would like to acknowledge that there are many qualified therapists available to provide services to children. They are trained in their respective fields and licensed by their practice boards. This includes Clinical Social Workers, Counselors, Marriage and Family Therapists, and Psychologists. These clinicians use many treatment approaches for working with children, such as Cognitive Behavioral Therapy, Trauma-Focused Cognitive Behavioral Therapy, Narrative Therapy, and more. However, Play Therapy is a special treatment practice in itself. In order to refer to oneself as a "Play Therapist," the provider must have successfully completed additional specialized training and become credentialed as a Registered Play Therapist (RPT) or Registered Play Therapy Supervisor (RPT-S).
It's not always easy finding the right therapist for your child, but here are several things to consider.
Ask friends and family if they know of any therapists who work with children.
Call your insurance company and ask if they have any preferred providers in your area.
Ask them about their training and experience or look up their credentials online. Play therapists are licensed mental health professionals who have completed graduate-level training and additional training in the theory and practice of play therapy. The play therapist's name will be followed by the acronym RPT or RPT-S.
Ask if the therapist has experience treating children with similar issues as yours.
If your child resists therapy or isn't making a connection with their therapist, you may need to consider other options. It's normal for children to have strong feelings about someone new in their lives, so give it some time.
However, if your child repeatedly refuses to participate in therapy or refuses treatment altogether, it might be time to start over. And that's okay—not every therapist will be a good fit for you and your child. The most important thing is to find someone who will connect with your child and help them make progress. Finally, it's important to understand that most play therapists are also trained to provide other therapy modalities. The therapist will determine the right mix of treatment modalities based on your child's needs and developmental level.
If you are looking for a therapist in North Dakota, talk to someone at Dakota Family Services. We'd love to get you and your family started on the path toward healing.