Transcript


Coping with Chaos: Tips for Staying Sane During Trying Times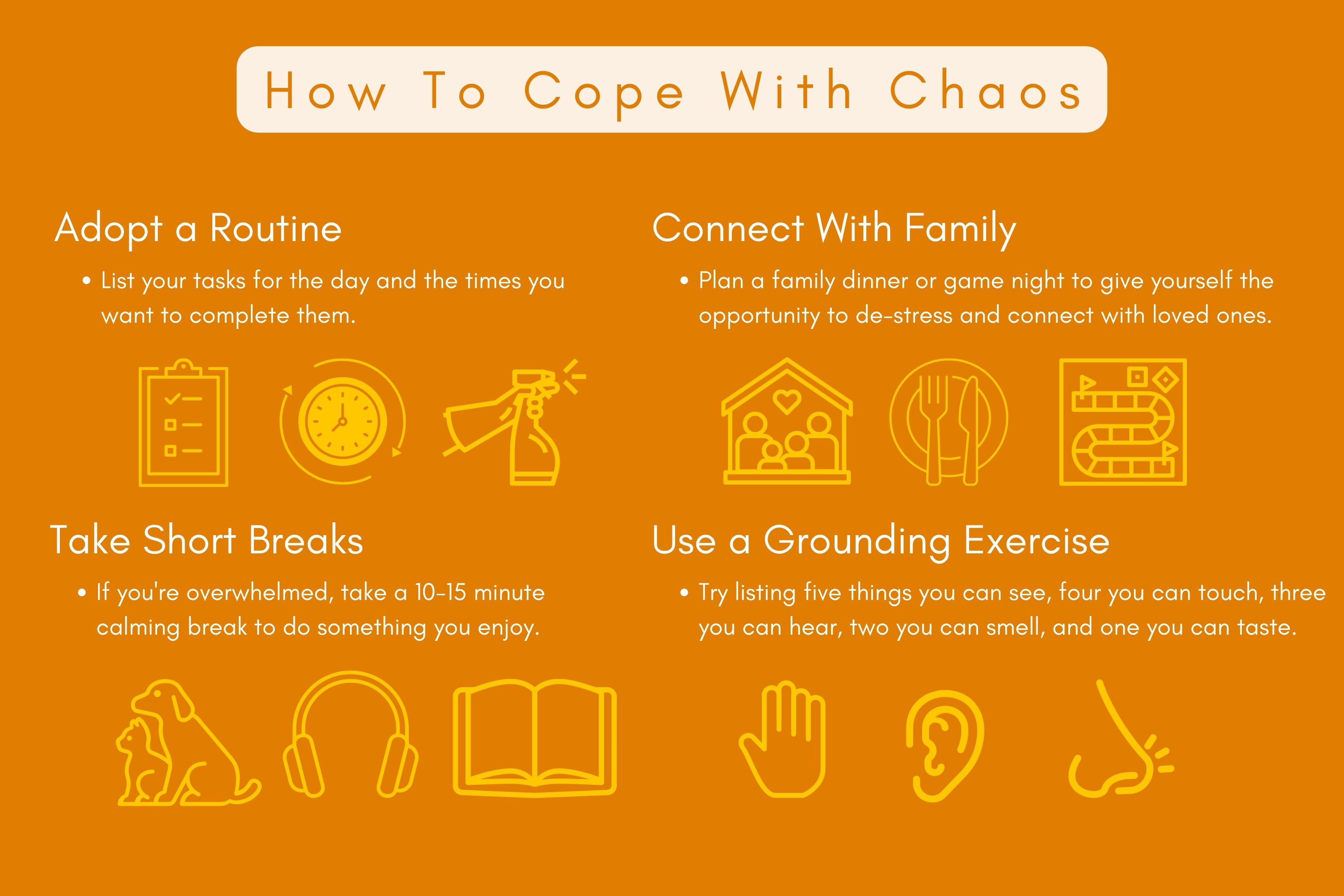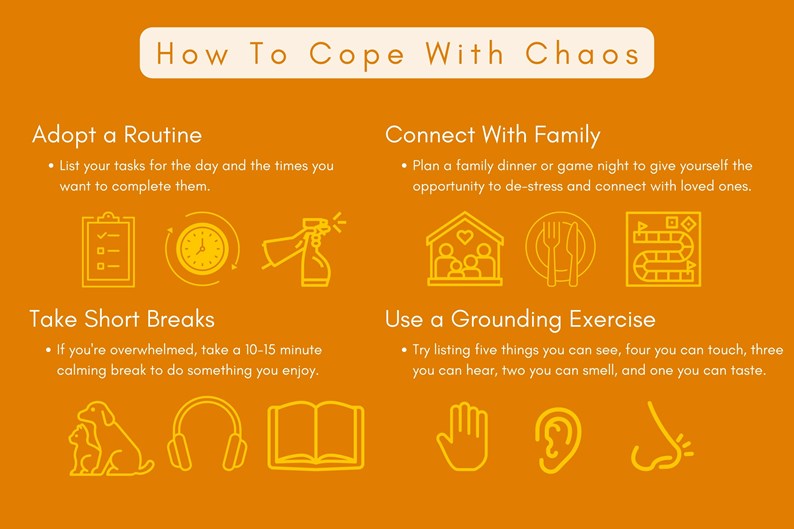 Featuring Dr. Megan Spencer,Psychologist, Dakota Family Services

Tim Unsinn:
Welcome to Mind Your Mind, a podcast presented by Dakota Family Services, an outpatient behavioral health clinic located in Minot, Bismarck, and Fargo North Dakota. In this podcast, I will talk with our experts about understanding and nurturing our mental health and wellness. I'm your host, Tim Unsinn. Join me each episode. As we explore the intricacies of our minds, decrease the stigma of mental illness. Learn practical tips for managing our mental health and wellbeing and recognize when it's time to ask for help. Join me now to mind your mind. Welcome to this episode of Mind Your Mind.

Tim Unsinn:
Our guest is Dr. Megan Spencer. Dr. Spencer is a clinical psychologist and provides diagnostic and psychological evaluations and CBT in Fargo. Dr. Spencer, it is great to have you on.

Megan Spencer: 
Hi. It's great to be here. Thanks for having me.

Tim Unsinn: 
Well today, we're going to be talking about self-care and family care. However, before we get to the topic, there's always that first question I ask all of our guests and that is why do you do what you do?
Megan Spencer:
It's as simple as the fact that I really, really do enjoy helping people. I love helping them figure out why they're feeling the way that they're feeling, helping them understand themselves better and understand some of the things that they're doing and why they're doing it.
Tim Unsinn:
All right today, talking self-care and family care. And I can't imagine anyone really that's not feeling just a little bit stressed or feeling like life's just a little bit chaotic right now. So if we're feeling like that and our life's in chaos, what can we do?
Megan Spencer:
It's really important that once you recognize that, that you sort of stop yourself in that moment and figure out what you can do to get yourself in some sort of routine, right? So the problem is we feel like we have so many things to do every day, that week, that month. And so trying to focus on everything at once can be really overwhelming. And so if you're feeling like chaos, it's so important to just sit down, get a piece of paper and start giving yourself some structure and routine. What do you want to accomplish in the morning? What do you want to accomplish during your day, during your evening? And that way you can give yourself that structure. So you can incorporate those things that are important, but not feel so overwhelmed by them.
Tim Unsinn:
So what are some tips or ideas for us? You know, I'm thinking about if I'm overwhelmed, I often don't think about the things that distract me. So what are some tips maybe to bring me back to creating that distraction from the chaos?
Megan Spencer:
So there's a few things you can do if, if we're, you know, if we're focused on creating a routine and structure, that's really looking at, okay, what time do I want to get up in the morning? Right. And what are the things that are really important for me to accomplish? Maybe that's I need to, I would really like to exercise in the morning, right? That's going to help distract from your own stress, but also helps you to feel like you're already starting out your day by doing something positive. And then it's okay, what time do I want to get the kids up? Then I can help the kids, right? Get some structure and some routine. That way I know what they're doing, I know what I need to accomplish. And that way we can all be on the same page. Now, if you're talking about individual distraction, go back to those things that if you think back to times when it was less stressful and those things that you really enjoy and you love doing, and just made you happy, think about those things and how you can not only incorporate those things into your structure and routine.
Megan Spencer:
Right. But also if you're feeling so overwhelmed, just stop for that moment and take some time to, you know, 10 or 15 minutes of reading or listening to some music or going and spending time with pets. Right. If you have them, because pets are amazing. And they're so comforting,
Tim Unsinn:
We are in that point of, of, you know, finding, looking for distractions, we're finding our own, self-help in doing that. What are the rules and guidelines? If we see someone else in chaos, how do we approach that situation without being like, I know it all, you know?
Megan Spencer:
Yep. You know, usually I say, you know, put yourself in their place, right. And so if you notice maybe it's your spouse, or maybe it's your son or your daughter, or even a parent, right. Go to them and just say, look, you know, I've been feeling really overwhelmed and this is what I did to help myself. So if, if you're feeling the same way that I am, because I know a lot of people are, think about something that you really love and just incorporating that in your day.
Tim Unsinn:
Well, I think at two, we talking about, you know, self care and family care, we're talking a lot about our own self care at this point. But how about that, that family chaos? What are some ideas there?
Megan Spencer:
So here's something that's kind of cool, you know, with people spending a lot more time indoors with their families, they've started some new routines, like more family dinners or having a family game night or a family movie night, right. That not only helps to de-stress, but it's fun. And you, you know, if you're having family dinners and you plan those out a couple of nights a week, that's a way to connect. And if one of the kids are struggling, that's their opportunity to say, Hey mom, or, Hey dad, you know, this was really hard for me this week, but open it up by you saying it too. By the parents modeling for the kids to talk about the stress, but incorporating those opportunities to sit down as a family and just reconnect.
Tim Unsinn:
Or the family that is extremely extroverted. The technology today is, is just so easy to do a group connection time on zoom or Skype or FaceTime. So bring that social time together and maybe eliminate some chaos that way.
Megan Spencer:
Yes, absolutely. And even with extended family that, you know, even before all of this spending more time indoors and sort of isolating in some degree, reconnect with those family members that are living in other that maybe you just didn't think about connecting through zoom in that way and doing family game nights. Cause there's some really cool technology out there that you can do through apps and zoom where you can play games over zoom with other family members or,
Tim Unsinn:
And I heard somebody share an idea once about doing puzzle competition. So each family gets the same puzzle ready, set, go. And it's
Megan Spencer:
Awesome. Yes, definitely.
Tim Unsinn:
All right. So what are some other helpful coping tips or other statements we can use in the process?
Megan Spencer:
So one thing, honestly, I really, I teach a lot of people that I see when they're feeling kind of panicky or overwhelmed. And in that moment, there's a grounding exercise. That's really simple and really easy to do. And it's something that you can do anywhere. And to be honest, people don't really even know you're doing it. And so this can be a really good way to ground yourself and calm yourself if you're feeling overwhelmed or kind of extra anxious or panicky. And what it is is it's, it's using your senses and it's five, four, three, two, one. And so five is five things you can see. Four things you can touch. Three things you can hear. Two things you can smell. And one thing you can taste. And so what that's doing is it's grounding you in your environment versus you focusing on that panicky, that anxious, that overwhelmed feeling. And so what it does is it helps calm you.
Tim Unsinn:
I love that five four, three, two one. So now I'm the guy that says NC squirrel. So I caught five. So one more time for us is a five, four, three, two. Yeah,
Megan Spencer:
Absolutely. So it's five things. You can see four things, you can touch three things. You can hear two things you can smell. And one thing you can taste. I was like mealtime at the house.
Megan Spencer:
Other people will use like gum or mints or little mini chocolates once they get to that point. And you can do this over and over again until you feel yourself calm.
Tim Unsinn:
You're listening to mind your mind. Our guest is Dr. Megan, Spencer and Dr. Spencer, any other thoughts on self-care? Family care?
Megan Spencer:
Last thing is just brief statements. You can tell yourself in a moment like this won't last forever. This too shall pass. I can handle this, right? Those can be soothing and calming statements that can help in a split second
Tim Unsinn:
Thinking, pick up a history book and just look at history and yeah, things are going to be okay. It's all going to calm down. It'll all be better. So thank you so much for your time. However, before we go, before we wrap up, there's that final question that we ask all of our guests. What do you do to personally mind your mind?
Megan Spencer:
I do a few things. Luckily I have three dogs at my house and I definitely love spending time with them and they are wonderful, wonderful companions on top of that. I love to spend time obviously with my child and my husband, and we go to the lakes on the weekend, which is sort of my peaceful place and where I just let go of all my work and everything. And I can just really relax. Other than that on a day-to-day basis, it's really about leaving work at work. And when I walk out that door, I do my best to leave it in my office.
Tim Unsinn:
It has been a pleasure. Thank you for sharing your time and your talent with us on Mind Your Mind. Thank you for helping me have a good day. Thank you for joining us for Mind your Mind, a podcast presented by Dakota Family Services. You can't have health without behavioral health. Remember to Mind Your Mind. For more information links, to additional resources, contact information, and much more go to Dakotafamilyservices.org.